35th Annual Cold Regions Conference
Nov 24, 2022| Nov 25, 2022
Venue:
45 Lodge Street
Waterloo, ON N2J 2V5
Canada
And Via Zoom (Register to receive link)
Register for the event
Events this year include
Two days of student research talks
3-minute research synopsis competition
2 Keynote talks including
Emerging Researcher Keynote,
CRRC Closing Keynote Speaker,
If you are not submitting an abstract but want to register for 35th annual Cold Regions Conference (i.e., a faculty member, research partner or non-presenting student), please use the link below to register
Cold Regions Conference: DAY 1 – THURSDAY, NOV. 24 2022
Session 1: Modelling species and/or habitat distributions
Regional muskox density in the Northwest Territories
Investigating the hydrologic impacts of increasing beaver activity on lakes and streams in the Inuvialuit Settlement Region
Implications of Beaver Dams on the hydrology of Arctic Watersheds
Multispecies modelling of an ecologically intact protected area, Thaidene Nëné Indigenous Protected Area, NWT
Session 2: Snow and Ice Monitoring
Changes in the Shallow Firn Layer of Devon Ice Cap, Nunavut between 2011 to 2022
Innovative approaches to monitoring lake snow in Canada's Sub-Arctic
Air-snow-ice-water interactions and variability in northern lakes
Using CSA SWOT Lake Altimetry Data to Advance the Understanding and Modelling of Thermokarst lakes and Lake Networks in the Canadian Arctic
Bulk Snow Density Estimates from Passive Microwave Remote Sensing and Automatic Weather Stations
Session 3: Disturbance impacts on ecosystems and species
The drying of the Arctic and future changes: a case study from the Western Canadian Arctic
Post-fire changes in sub-canopy radiation and permafrost degradation at Scotty Creek, NWT, Canada
Indigenous Resurgence and Settler Accumulation: a discussion of environmental stewardship & colonial economies
A participatory mapping approach to Indigenous Protected and Conserved Area monitoring and management in Sambaa K'e First Nation, Northwest Territories, Canada
Effect of Rare Earth Elements Nd, Pr and Y, Individually and in Mixtures to Daphnia magna
Characterization of growth and the GH-IGF1 pathway in juvenile mummichog (Fundulus heteroclitus) exposed to ammonium chloride
Three-Minute Talks
03:10– 04:15pm
Stuart Anderson, Elise Brown-Dussault, Maria Belke Brea, Jocelyn Biro, Claire O'Brien, Claudia Haas, Caitlyn Lyons, Ida Moalemi
Three-Minute Talks/h6>03:10-04:15 PM
Madeline Patenall, Nicole, Andreola, Gabriel, Spizzirri, Iain Thomson, Nadia Abumazen, Daniela Klicper, Ali Reza Shahvaran, Laura Anderson, Malcolm Brockett, Eric Leonard
Social at Wilf's: 06:30pm
Cold Regions Conference: Days 2 – FRIDAY, NOV. 25 2022
Arrivals and registration: 8:30-9:00
Day 2 Welcome and opening remarks: 9:00-9:15
Session 4: Hydrology & Water Quality
Pairing isotopic and direct measurements to capture both dimensions of a water balance
Future climate may enhance arsenic release from mining pollution-affected peatlands near Yellowknife, NT
An integrated framework for monitoring water quantity, water quality and contaminant deposition at lakes across the Peace-Athabasca Delta (Alberta, Canada)
Hydrological and limnological trajectories of shallow lakes in a northern delta over space and time since 2015
Session 5: Remote Sensing of Cold Regions
The Role of Climate Change on Algal Biomass
Monitoring Lakes Surface Temperature in the North Slave Region, NWT using remote sensing
Passive Microwave Sea Ice Edge Estimation over the Eastern Canadian Arctic
Snow Observations from Above: Mapping Spatial Heterogeneity of Snow for Polygonal Terrain using Drones
Working with Indigenous Communities workshop: 13:00-14:45
Keynote: Conservation of Arctic Marine Mammals in a Noisy Ocean William Halliday, Wildlife Conservation Society Canada and University of Victoria
Speakers
Meet Our Key Note Speakers
Dr. Laura Brown
Associate Professor, Department of Geography, Geomatics and Environment
Title: "How did I get here?"
I was sitting on Bathurst Island in the High Arctic last summer, having a break from data collection, eating lunch on the tundra with my team of graduate students and pilot – I should probably have been thinking about something scientific, but instead, I was marveling at the amazing landscape around me pondering happily 'how in the world did I get here??'.   Join me to hear about how I adjusted from an early career researcher to a PI: things that went well, things that definitely did not go well, and interesting science things I learned along the way!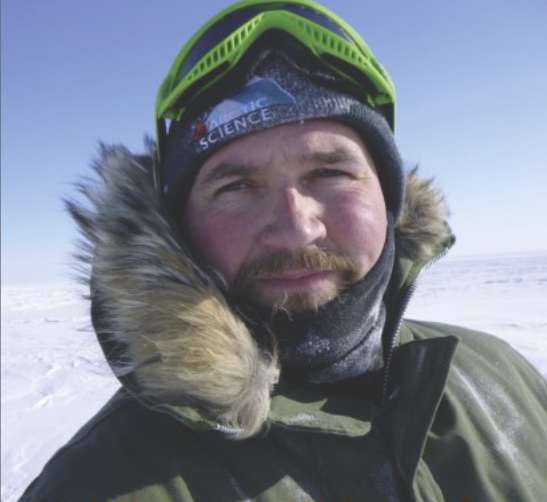 Dr. William Halliday
Conservation Scientist, Arctic Acoustics Program Lead, Wildlife Conservation Society Canada and Adjunct Assistant Professor, School of Earth and Ocean Sciences, University of Victoria
Title: Conservation of Arctic Marine Mammals in a Noisy Ocean
Abstract: Arctic marine mammals are facing multiple concurrent threats caused directly and indirectly by climate change. Not only are marine mammals facing habitat loss and ecosystem changes due to a reduction in sea ice, but they are also facing increased human activity, including increased underwater noise. In this presentation, I will discuss my research program, which focuses on 1) monitoring Arctic marine mammals and their exposure to underwater noise; 2) measuring the impacts of underwater noise on Arctic marine mammals; and 3) examining management and mitigation strategies for reducing underwater noise exposure to Arctic marine mammals.
Countdown to 35th annual Cold Regions Conference